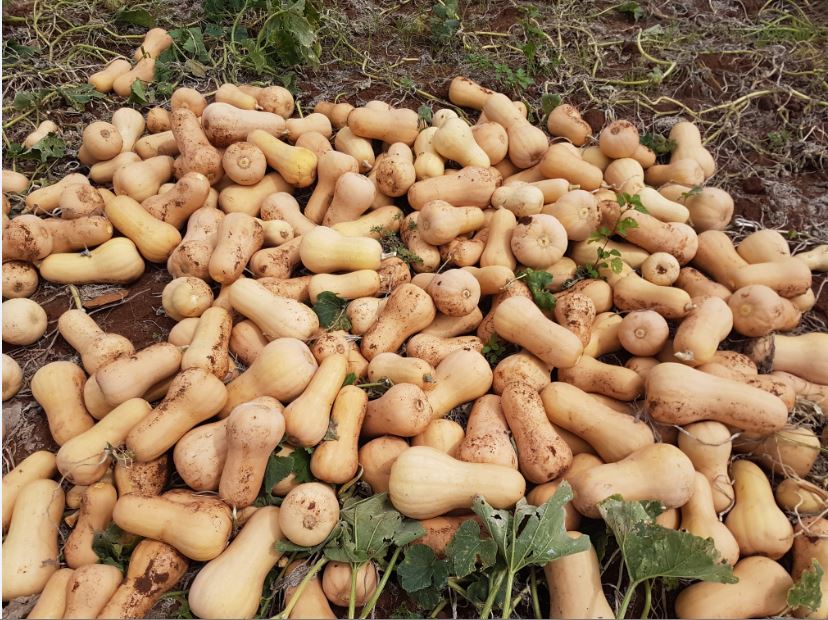 The practice of growing butternut from a seedling is nothing new and farmers have  taken advantage of this method for a number of seasons now.
Planting times in KZN
The optimum  sowing and growing time for butternut in KZN is once the danger of frost has passed, soil and air temperature has lifted to allow for rapid germination and early growth, increasing temperature to allow for good vegetative growth, marginal temperatures once the plants begin to flower to allow for a balance between male and female flowers, low humidity and lots of sunlight to reduce disease pressure and fruit rot just before harvest – the question is – where is this place in KZN .
The Butternut Market
A market average on all fresh produce markets will tell you that the prices are best between  July and December, taking the optimum growing time into account and the market  opportunity that exists, planting early coming out of winter creates a window for farmers to exploit – one problem though – butternut seed needs heat to germinate and for early growth – rodents  love ungerminated seed lying in the ground waiting for soils to warm up, causing big losses and poor stands.
Temperature Guidelines
Soil – 15 degrees C and less – no germination.
15 degrees C constant – 20% germination.
18 to 20 degrees C – 7 days to germination.
20 to 28 degrees C is ideal and over 30 will have a negative  affect on germination.
Air –    13 degrees C and below no or very little growth.
18 to 28 ideal and over 30 will affect  growth and pollination.
Why plant seedlings
2 reasons :
1) catch the market
2) overcome early germin
ation and growth issues when it is still cool.
Butternuts take anything from 90 to 110 days to mature from seed depending on conditions at planting  and over the growing season. The period at germination  is critical, delayed germination  in a September sowing can prolong the season by 2 weeks, pushing harvesting  into late December early January and out of the good price zone.
For KZN farmers in the Weenen, Muden, Richmond and Tala Valley  planting seedlings in August and September is a good way to get around this problem and the Pongola, Mkuze and Coastal areas can exploit this in the May, June and July planting slot.
Over the past few years the market has shifted away from open pollinated varieties like Waltham to the new higher yielding, better quality hybrid varieties – Atlas, Cosmos, Pluto and Quantum. Hybrid seed comes at a premium and protecting your investment in the early season is another good reason to plant seedlings.
The benefits of planting seedling
Planting can be done slightly earlier  as the  seed will not be exposed to cold soil temperatures, the one week or so earlier in the market can make a significant  difference in price, germination loss due to direct seeding will also impact on plant population and final yield. The seedlings also have a head start on seed giving them an edge on the weeds.
Trial results from from a farmer's day held at Sutherlands Seedlings
Plant Population – 14 000 plants / ha.
Waltham Seeded 80 %
germination – 14 tonnes / ha.
Waltham seedlings – 28 tonnes / ha.
Hybrid Seedlings Pluto – 41 tonnes / ha.
To conclude
Managing risk as best as possible and seeking out the best times to exploit the market together with planting hybrid varieties will give you the best returns possible.